Angela Mey­ers
Angela loves to hike and spend time out­doors. She finds hik­ing and back­pack­ing a great way to con­nect with nature, decom­press and get back to what's real­ly impor­tant in life. She also loves to meet great peo­ple on the trail. Thank­ful­ly we live in an area with fan­tas­tic hik­ing close by. Some of her local favorites are Placeri­ta Canyon — the most beau­ti­ful, Towsley — stren­u­ous and a good work­out for when you don't have much time and Vasquez Rocks which she hikes at least once a week. And let's not for­get about the High Sier­ra and all of it's beau­ty! Her favorite trip was back­pack­ing the 72 mile High Sier­ra Trail that goes from Cres­cent Mead­ow in Sequoia Nation­al Park across the Sier­ra to Mt. Whit­ney and then exits at Whit­ney Por­tal. She has been to Mt. Whit­ney three times and hopes to be able to con­tin­ue to make this a year­ly event. Last year she vis­it­ed Ger­many and was for­tu­nate enough to hike some of the Bavar­i­an Alps with fam­i­ly and friends. She hopes to see you on the trail soon!
---
Chris Spich­er
Chris was born in east Los Ange­les, but now resides in Lan­cast­er since 1953. He loves to be out­side, and loves to sleep on the earth. He has hiked along Hadri­an's Wall and trav­elled through the klondike-Chilcoot pass in Alas­ka one sum­mer. He hiked the John Muir trail solo, has tak­en 10 trips in a canoe through the bound­ary waters canoe area, sev­er­al trips with the leg­endary Lee Bergth­old in the south­ern sier­ra and east­ern Cal­i­for­nia desert. When his wife is not ski rac­ing, they have been known to hike togeth­er. Chris loves camp­fires, star­ry nights, crazy weath­er and sparkling clean, fresh water.
---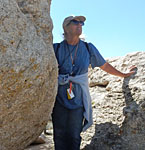 Dianne Ersk­ine-Hell­rigel
Dianne loves to climb moun­tains! She has climbed Cho Oyu, Yufuin, Fuji, "The Snake", Kil­i­man­jaro, Ever­est to the sum­mit, and Ever­est to Base Camp/Kalapattar. She loves to hike California's moun­tains and deserts, and is always ready for a new adven­ture and chal­lenge. She loves camp­ing and is espe­cial­ly fond of the Ange­les Nation­al For­est, and all of California's Nation­al Parks.
---
George Car­il­lo
George has been hik­ing for 2 years and is a great, thought­ful leader. He always has a pre­de­ter­mined plan and direc­tion. He enjoys for­est hikes, espe­cial­ly those with creeks and water­falls. But he also enjoys hikes with dif­fer­ent scenery and dif­fi­cul­ty lev­els as well. The adven­ture, exer­cise, social aspects and nature is what he val­ues most. As For­est Gump said, "That's all I got to say about that!"
---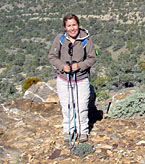 Lin­da Castro
Lin­da has been a hik­er leader since 2009. She would rather be in the out­doors than any­where else. She is inter­est­ed in every­thing relat­ed to the out­doors, from the Amar­gosa vole to the Zygo­cac­tus. She is also the Desert Field Orga­niz­er for the Cal­i­for­nia Wilder­ness Coali­tion, an Oak­land-based Cal­i­for­nia non-prof­it orga­ni­za­tion that works to build sup­port for the pro­tec­tion of California's wildest remain­ing places. Lin­da is an avid hik­er, tent camper, and ama­teur nature photographer.
---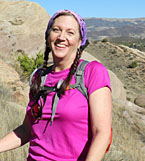 Lise Mey­ers
Lisé start­ed hik­ing with Com­mu­ni­ty Hik­ing Club near­ly three years ago, and quick­ly became a great hike leader. Lisé has a pas­sion for know­ing the names of the flow­ers, trees and grass­es that are seen on CHC's hikes, and loves to teach them to oth­ers. She enjoys lead­ing hikes at a pace that every­one can enjoy. She believes a hike should be a com­bi­na­tion of great car­dio, while tak­ing the time to enjoy the scenery and wants to be sure every­one has a great expe­ri­ence. She is also an avid pho­tog­ra­ph­er whose favorite sub­jects are wild­flow­ers and wild animals.
---
Nik­ki Dail
Nik­ki Dail has been hik­ing reg­u­lar­ly in the local sur­round­ing moun­tains for the last 15 years. She is inter­est­ed in nature, wildlife, and espe­cial­ly birds. She enjoys hav­ing the abil­i­ty to share her joy and won­der of our beau­ti­ful sur­round­ings with great peo­ple. Some of her favorite So Cal hikes include Mt San Jac­in­to, Bridge to Nowhere, Night­mare Gulch in Red Rock Cyn, La Jol­la Cyn, and Big San­ta Ani­ta canyon from Chantry Flats. She also has back­pack­ing expe­ri­ence and enjoys Inter­na­tion­al trav­el. Some of her adven­tures have tak­en her to Mt Whit­ney, Hava­su­pai in the Grand Canyon, the Bavar­i­an Alps, Mt Kil­i­man­jaro, trekking in Nepal to Mt Ever­est Base Camp, Yosemite High Sier­ra Camps, Hawaii vol­cano lava flow, and hik­ing in the jun­gles of Peru.
---
Ola Mikail
Ola Mikail grew up only hik­ing on rare camp­ing fam­i­ly vaca­tions. It wasn't until the age of 41, when she was giv­en the oppor­tu­ni­ty to train for Half Dome in Yosemite that she fell in love with nature and the sport of hik­ing. She has since done Half Dome twice, Mt. Whit­ney par­tial­ly twice, with the goal of sum­mit­ing it this year. She also has the Grand Canyon planned with an inti­mate group of friends. She has been lead­ing for the Com­mu­ni­ty Hik­ing Group for just a few short months and loves the oppor­tu­ni­ty to lead, which is some­thing nor­mal­ly out­side of her com­fort zone.
---
Richard Bouley
Richard is an out­door enthu­si­ast who loves to explore Cal­i­for­ni­a's diverse envi­ron­ment. He has been Hik­ing his entire life and enjoys the com­pa­ny of oth­er like-mind­ed indi­vid­u­als. Hik­ing ful­fills him spir­i­tu­al­ly, men­tal­ly and phys­i­cal­ly. Whether it's day hikes or back­pack­ing he can't get enough of the trails. He can't wait to see you on the trail!
---
Ron Kraus
Ron Kraus retired from the City of Los Ange­les, Depart­ment of Recre­ation and Parks, in 2002 and has been a vol­un­teer at the Placeri­ta Canyon Nature Cen­ter since then. He cur­rent­ly serves as the pres­i­dent of the Placeri­ta Canyon Nature Cen­ter Asso­ciates, the non-prof­it orga­ni­za­tion that assists the Coun­ty of Los Ange­les in the oper­a­tion and pro­gram­ming of the facil­i­ty. He enjoys lead­ing hikes that have a con­nec­tion with local his­to­ry and his­tor­i­cal sites.
---
Steve Iland
Steve first dis­cov­ered his love for the out­doors in Ire­land, while tramp­ing through marsh­es and hedgerows with a bird­er friend. He has hiked and camped all over Europe in the scouts. After Steve moved to San­ta Clari­ta, he began to lead hikes with CHC years and has led many of our hikes over the last 2 years. He likes hik­ing less crowd­ed trails, espe­cial­ly cool­er moun­tain­ous areas. He main­tains the CHC hik­ing sched­ule and is our Meet Up Mas­ter. He also enjoys pho­tograph­ing the flo­ra and fau­na he sees while hiking.
---
Steve Ritchie
Steve is a retired busi­ness own­er and Viet­nam war vet­er­an. He enjoys camp­ing, back­pack­ing, kayak­ing and shar­ing his knowl­edge of these skills with others.