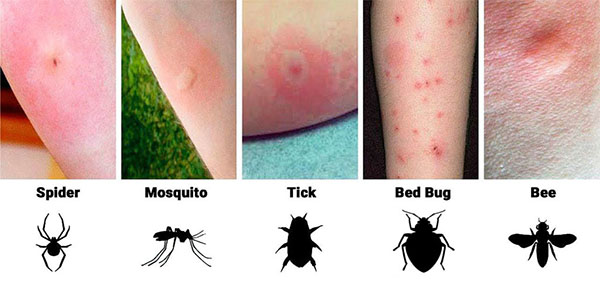 When you're out and about in nature you are inevitably going to come across creepy crawlies and will at some point ask your­self the ques­tion "what just bit me?"
Insect bites and stings do look dif­fer­ent to each oth­er and can help in iden­ti­fi­ca­tion of where that red, itchy or sore lump has come from. The pic­ture at the top of this page will help you to iden­ti­fy the typ­i­cal appear­ance of some com­mon bites or stings.
If you real­ly aren't sure where your bite has come from and you are wor­ried about some of your symp­toms, seek prop­er med­ical advice and treat­ment if nec­es­sary. This is very impor­tant if the bite site shows signs of infec­tion, is pro­gres­sive­ly wors­en­ing or if you devel­op a fever or feel unwell.
Spi­der Bites
OK, we know spi­ders aren't insects (they're arach­nids) but they can bite and you may well have some form of reac­tion at the site of a bite, so they are rel­e­vant here. The impor­tant thing to note here is that the vast major­i­ty of spi­der bites and spi­der species found in South­ern Africa are not dan­ger­ous – there has nev­er been any record­ed fatal spi­der bite in South­ern Africa, includ­ing the med­ical­ly impor­tant species. Your biggest risk is of infec­tion of the bite site, not the bite itself, so clean the area thor­ough­ly and keep it clean.
Of the over 2200 spi­der species in South­ern Africa, there are only a very small hand­ful of species that are med­ical­ly sig­nif­i­cant that you should be aware of:
Black but­ton spider
Brown but­ton spider
Vio­lin spider
Long legged sac spider
If you have been bit­ten by one of these spi­ders, then seek med­ical assis­tance with­out delay.
Mos­qui­to Bites
We all know the red bump from a mos­qui­to bite and the irri­tat­ing itch that doesn't want to go away no mat­ter how much you scratch. Just like your moth­er told you, don't scratch! It real­ly does just make the itch worse and you also run the risk of dam­ag­ing the skin and intro­duc­ing bac­te­ria that may lead to an infec­tion forming.
It is worth not­ing that dif­fer­ent peo­ple react to mos­qui­to bites in dif­fer­ing amounts – some peo­ple will hard­ly react at all, where as oth­ers can be extreme­ly sen­si­tive and devel­op large red reac­tions or even blis­ters. You can con­sid­er using an after-bite cream to calm the itch, or speak to a phar­ma­cist about over the counter anti­his­t­a­mine options if you react severely.
The absolute num­ber one best way to beat the itch, though, is to avoid get­ting bit­ten in the first place:
Cov­er up as much as you can with loose fit­ting cloth­ing, espe­cial­ly around dusk when mos­qui­toes are most active. If they can't get to your skin they can't bite you.
Wear light coloured cloth­ing – appar­ent­ly mos­qui­toes are drawn to dark colours like black and dark blue.
Use insect repel­lent – feel free to exper­i­ment with nat­ur­al repel­lents if you're out­side of malar­ia zones, but if you are in an area where there is a risk of malar­ia then use a DEET (N,N‑Diethyl-meta-toluamide) based repel­lent. Apply reg­u­lar­ly through­out the day, fol­low­ing appli­ca­tion instruc­tions and tim­ings detailed on your cho­sen product
Stop mos­qui­toes from get­ting in to where you sleep. Keep tent mesh doors and win­dows closed at all times (this has the added ben­e­fit of exclud­ing all oth­er creepy crawly, slith­ery or fly­ing unwant­ed guests out too), if your car­a­van has win­dow screens then use them and if you're stay­ing in a prop­er bed in a malar­ia risk area then use a mos­qui­to net.
Keep mos­qui­toes away from where you are – try cit­ronel­la can­dles or oil lamps, use plug in dif­fusers for inside spaces or burn mos­qui­to coils outside.
If you are trav­el­ling to an area with a risk of con­tract­ing malar­ia, please take this seri­ous­ly. Talk to a trav­el clin­ic or doc­tor about malar­ia pro­phy­lax­is and take all the pre­cau­tions you can to avoid get­ting bit­ten. Malar­ia is a seri­ous ill­ness and can and does kill – don't mess about with it and get prop­er advice. If you have any flu-like symp­toms whilst you are in a malar­ia zone or in the weeks after­wards then seek med­ical assis­tance and tell them that you could have been exposed to malaria.
Tick Bites
Yes, ticks are also not insects, they're arach­nids too. Just like spi­ders, their bites are red and bumpy and rel­e­vant to work­ing out what bit you.
If the tick is still in place when you notice the bite and hasn't dropped off, then you'll want to remove it as soon as pos­si­ble to min­i­mize your risk of tick borne infec­tions. You can use a tick removal tool and fol­low the instruc­tions with the tool. Alter­na­tive­ly, use a pair of fine point­ed tip tweez­ers (not the ones for eye­brows); grasp the tick as close to the skin as pos­si­ble and pull upward with a steady, even pres­sure. Don't jerk or twist the tick when using tweez­ers as you risk leav­ing the mouth parts behind in the skin and don't squash the tick either. Clean the site of the bite thor­ough­ly after removal and dis­pose of the tick care­ful­ly by flush­ing down the toi­let or wrap­ping it tight­ly in tape and throw­ing it away responsibly.
It is best to avoid tick bites as there is a chance that they can pass on illnesses:
When hik­ing, wear long trousers and long sleeves.
Repel­lants that con­tain DEET (or diethyl­tolu­amide) can be effec­tive, but need to be reap­plied every few hours.
Cloth­ing impreg­nat­ed with per­me­thrin insec­ti­cide may also help
Reg­u­lar­ly inspect cloth­ing and skin for ticks
There is a risk of con­tract­ing tick bite fever after being bit­ten by a tick, so be on the look­out for the fol­low­ing symptoms:
A black mark at the site of the bite, around 2 to 5mm in diam­e­ter, known as an eschar
Swelling around the eschar
A severe headache
A gen­er­al feel­ing of ill health
Swollen lymph nodes near the bite area
Night­mares
Symp­toms usu­al­ly devel­op around 5–7 days after being bit­ten and if you do have any of these symp­toms then seek out med­ical assis­tance. Gen­er­al­ly, tick bite fever can be effec­tive­ly treat­ed with antibiotics.
There is also a risk of Crimean Con­go Haem­or­rhag­ic Fever (CCHF) after being bit­ten by a tick in South­ern Africa, but this is thank­ful­ly very, very much rar­er than tick bite fever. It is a very seri­ous viral ill­ness and if you sus­pect that you may have con­tract­ed it, seek med­ical assis­tance straight away. Symp­toms include sud­den fever, mus­cle aches, dizzi­ness, neck pain and stiff­ness, back­ache, headache, sore eyes and sen­si­tiv­i­ty to light, nau­sea, vom­it­ing, diar­rhoea, abdom­i­nal pain, sore throat and mood swings and agitation.
Bed Bugs
Bed bug bites are red, itchy bumps gen­er­al­ly found in clus­ters or lines. If you have a run in with these irri­tat­ing lit­tle pests in hotels, B&Bs or hos­tels while trav­el­ing, then wash clothes, tow­els and bed­ding at as high a tem­per­a­ture as you can. If you find them lurk­ing at home, it's time to call out pro­fes­sion­al pest con­trollers to send them packing.
Bee and Wasp Stings
These can be painful and you will prob­a­bly be imme­di­ate­ly aware of the cause of these red bumps. For­tu­nate­ly most peo­ple suf­fer no major symp­toms beyond some pain and mild inflam­ma­tion which can be man­aged with over the counter pain killers if nec­es­sary. Check to see if the stinger has been left behind and remove it with tweez­ers if it is still there.
The excep­tion to this is if the per­son who has been stung has an aller­gy to bee or wasp stings. In the case of an aller­gy, there is a risk of severe reac­tion and ana­phy­lax­is. Seek med­ical assis­tance urgent­ly and if they have been pre­scribed an injec­tion such as an EpiPen or sim­i­lar, this should be admin­is­tered as instructed.