What to do when a snake bites you on a remote trail?
Arti­cle by: Floris Gierman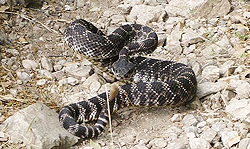 A few years ago I was hik­ing in Sequoia Nation­al Park with my fam­i­ly. Right when we start­ed our hike we saw 2 snakes which made me extra alert to the fact that they were around. I was walk­ing in front with my wife and par­ents behind me on a sin­gle track trail. The trail made a pret­ty steep left turn against a rock wall that was head high and out of no-where from the left a rat­tlesnake struck at me from about 2 feet away.
I FREAKED OUT and with­in a split sec­ond I jumped to the right, the snake moved quick­ly from the rock onto the trail. I thought he was going after me, so I got up and fell again, this time almost down the steep side of the trail. Luck­i­ly I came out with no injuries but it def­i­nite­ly scared me.
In the past few years of hik­ing and run­ning trails, I've encoun­tered about 10 snakes, includ­ing a few poi­so­nous rat­tlesnakes. I run a lot of trails solo in the mid­dle of nowhere, so I want­ed to fig­ure out exact­ly what to do if a snake bites me on a remote trail?
Below is a sum­ma­ry of things I've learned about first aid for snake bites after talk­ing to the Snake Bite Poi­son Line (1–800-222‑1222 avail­able 24/7), after doing my own online research and after post­ing my snake ques­tions on Red­dit Run­ning. The best info came from Jor­dan Ben­jamin, a her­petol­o­gist spe­cial­ized in ven­omous snakes. I'm just shar­ing this info because it might help you one day:
No first aid is much bet­ter than per­form­ing bad first aid. Don't cut at or around the site of the bite, don't com­press the bit­ten limb with a cord or tight ban­dage, don't attempt­ing to extract or neu­tral­ize ven­om using elec­tric­i­ty, fire, per­man­ganate, salt, black stones, mouths, mud, leaves, etc.
All Snake Bite Kits are dan­ger­ous and should not be used. This was also con­firmed by the Snake Bite Poi­son Line.
A lot of snake bite patients injure them­selves by pan­ick­ing direct­ly after a snake bite, by trip­ping over a rock or tree trunk, or by falling off the side of the trail. Stay­ing calm is impor­tant! After a snake bite, walk about 20–30 feet away from the snake.
Find a safe place to sit down asap. The ven­om can rapid­ly dif­fuse into your sys­tem, this can drop your blood pres­sure too low to pump all the way to your head while stand­ing. Sit­ting down reduces your chance of faint­ing with­in the first few min­utes. If you faint, it shouldn't be more than a few minutes.
Remove any rings, watch­es, tight cloth­ing and any­thing else from the bit­ten limb, because the swelling will make it a lot big­ger soon.
Take 5 min­utes to calm down and plan your evac­u­a­tion. The only effec­tive treat­ment for a snake enven­o­ma­tion is the cor­rect anti-ven­om to neu­tral­ize it.
Do not wait for symp­toms to appear if bit­ten. It's impor­tant to get in touch with emer­gency per­son­nel as soon as pos­si­ble to get you to a hos­pi­tal. If you have a cell phone and ser­vice, great, call 911 or the Park Ranger. If there is no ser­vice, think about the last time you had phone service.
A sharpie can be a great help for emer­gency per­son­nel to assess the sever­i­ty of your snakebite. Cir­cle the loca­tion of your snake bite and write down the time next to it. Draw a cir­cle around the bor­der of the swelling and write down the time. Write down all the things you're expe­ri­enc­ing that are not nor­mal, with the time next to it. Exam­ples are: metal­lic taste in your mouth, changes to sense of smell, sud­den loss of vision, dou­ble vision, visu­al dis­tur­bances, ring­ing in the ears, headache, nau­sea and vom­it­ing, bleed­ing from any­where, dizzi­ness, short­ness of breath, etc. The most com­mon signs and symp­toms are pain and swelling.
Update this info every 15 or 30 min­utes as the swelling moves up the limb and your symp­toms develop.
Make con­tact via cell phone. If this is not pos­si­ble, walk slow­ly to get help. Drink some water and take some calo­ries if you have any. Some snake bite vic­tims walk sev­er­al miles after seri­ous snake bites to their legs. They make it out fine because they made it out to med­ical care. This is much bet­ter than wait­ing for help if you can't reach any­one. Don't let the fear of "rais­ing your heart rate and increas­ing the speed of ven­om cir­cu­la­tion" pre­vent you from mov­ing to get to care. Be very cau­tious about dri­ving your­self to a hos­pi­tal, since some bites have seri­ous side effects that could sud­den­ly lim­it your abil­i­ty to drive.
Pre­vent­ing a snake bite is obvi­ous­ly bet­ter than deal­ing with a snake bite. Here are a few ways to reduce the risks of snake bites while trail running:
Be aware that there could be snakes where you're running.
Watch where you're plac­ing your feet, be extra aware on rocky, sun­ny areas, pock­ets of leaves and logs across the trail. If you're off trail, the odds go up because there are more rocks and cracks and less peo­ple to scare the snakes away. Watch out when run­ning through tall grass and weeds.
Step on a rock or log, not over it. This way you can spot a snake that may be shel­ter­ing under it and take action quickly.
Watch out when sit­ting down on a rock or tree stump, you might be sit­ting on a snake.
Don't try to chase the snake off the trail, this is why most peo­ple get bit by snakes.
Don't run with head­phones on trails, or have at least 1 ear­bud out.
Snakes tend to be near water, espe­cial­ly if it's in a dry envi­ron­ment. If you're near a spring or riv­er, keep an extra eye out.
Since snakes are cold-blood­ed, they'd like to come out when it's warm and sun them­selves on rocky areas or trails. They like to be on the edge of a sun­ny patch. If you come across a sun­ny patch, your encounter chances increase.
Most ven­omous snakes in the US rest dur­ing the day. The chances of run­ning into one are high­er in the morn­ings and ear­ly evenings, when their activ­i­ty might be a bit higher.
In the spring, after snakes have hiber­nat­ed togeth­er, the fre­quen­cy of sight­ings goes up. In the fall, when they retreat to a hid­ing place to spend the cold win­ter months, they are on the go, so high­er chances to encounter a snake. Most snake bites occur between April and October.
Things to bring on your trail runs that help with a snake bite:
Get­ting bit­ten by a snake can be dead­ly, espe­cial­ly if you're on your own on a remote trail. The fol­low­ing sto­ry is a good expla­na­tion of how a snake bite would feel: I Should Be Dead. Each year, about 8,000 ven­omous snake bites occur in the US and about 5 of those peo­ple die. You've got a good chance of sur­vival if you seek med­ical atten­tion immediately.
How to rec­og­nize a poi­so­nous from a non-poi­so­nous snake: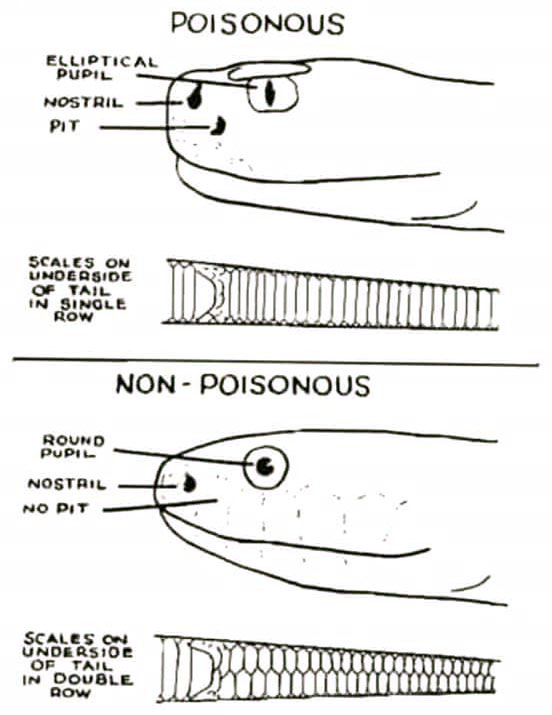 To sum­ma­rize: try to stay calm, sit down, remove any­thing tight, doc­u­ment your sit­u­a­tion, con­tact help.